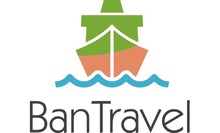 What to expect?
Ok, now you're excited and ready to book a cruise….
But WHAT can you expect?
The cruises we've selected for you are designed for complete relaxation.
Just the way REAL vacations are meant to be.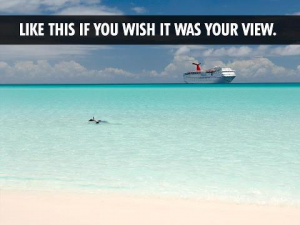 Onboard you can decide to do absolutely NOTHING, just reading, chilling, swim a little, eat a lot and watch the ocean go by.
OR…
You can go dancing in the disco, watch fabulous shows, engage in funny and entertaining games, hit the casino, shop, visit the spa, follow Pilates classes, learn how to dance the salsa, participate in a talent show, go to bingo, take a martini-mixing class, play mini golf, play basketball, go rockwall climbing (even ice skating!), watch movies on deck, attend art auctions, go to theme parties and hit the midnight buffet afterwards….
The possibilities are endless. And this is just on the ship!
Every day you arrive at beautiful destinations where you can go sightseeing, ziplining, parasailing, cavetubbing, swim with stingrays and dolphins, join jeep safaris, ride horses on the beach, visit museums and cultural attractions, go shopping, take local cooking classes, take carriage rides, go hiking, go biking …. or simply chill on world's most beautiful beaches.
So you make YOUR vacation as active or laid-back as YOU want it to be. The beauty of it is, there is something for everyone. So the entire family or your entire group can be doing something different on the same ship! No stress, no hassles, only happy faces.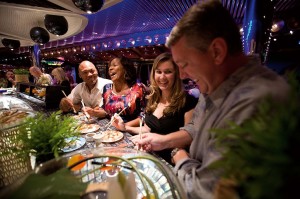 All meals are included in your fare, even room service. Scrumptious entrees in the main dining room (I'm talking lobster and rib eye steak!) or healthy salads and lean cuts at the buffet. 24 hour pizza and ice-cream, Mexican, Chinese and Indian food stations, sandwich- and burger corners. A seafood specialty station. Here also, there is something for everyone (starting to spot a pattern?).
E-mail us today for the cruise of a lifetime. Make memories, enjoy life, enjoy your loved ones while chilling on board of these fabulous ships.
All Aboard!!
BanTravel
Curaçao